Memory Care Learning Center in Kalamazoo hopes to be an answer for Alzheimer's caregivers
Editor's note: This story is part of Southwest Michigan Second Wave's On the Ground Milwood series. 
So what happens after the diagnosis? After the doctor says your spouse has, or you have Alzheimer's Disease?
"That's a very intense time for most people," says Jay Prince, president and chief executive officer of Heritage Community of Kalamazoo. Many are forced to start living in a different way, without a lot of know-how, but with a lot of questions, he says.
"Most people have a doctor's visit," he explains. "They do an assessment and the doctor says, 'You have Alzheimer's Disease.' And maybe, 'Here's a medication.' I've heard story after story of that happening, and then the person and their spouse, they just sit in the car devastated. They just have no idea. What does that mean? How much time do I have left? What do I need to plan for?"
The Heritage Community, the oldest senior care organization in Kalamazoo, is trying to provide answers with the development of the Memory Care Learning Center, a facility devoted to educating caregivers on Alzheimer's disease and dementia.
"The Memory Care Learning Center's resources help answer the question of 'What's next?' after the diagnosis of Alzheimer's and other forms of dementia," Prince says. "Training and support for subsequent stages of the disease help caregivers better engage someone with the disease while emphasizing dignity and compassion for both sides of the relationship."
The 6,700-square-foot facility is being built in a former administrative area inside Heritage Community's Amber Way memory-loss assisted living location. It is one of several buildings on the 27-acre campus of the nonprofit senior living community, all adjacent to the 2300 block of Portage Street. Amber Way is next door to Directors Hall, which already houses a residential memory care unit with senior residents that have Alzheimer's Disease called Amber Place.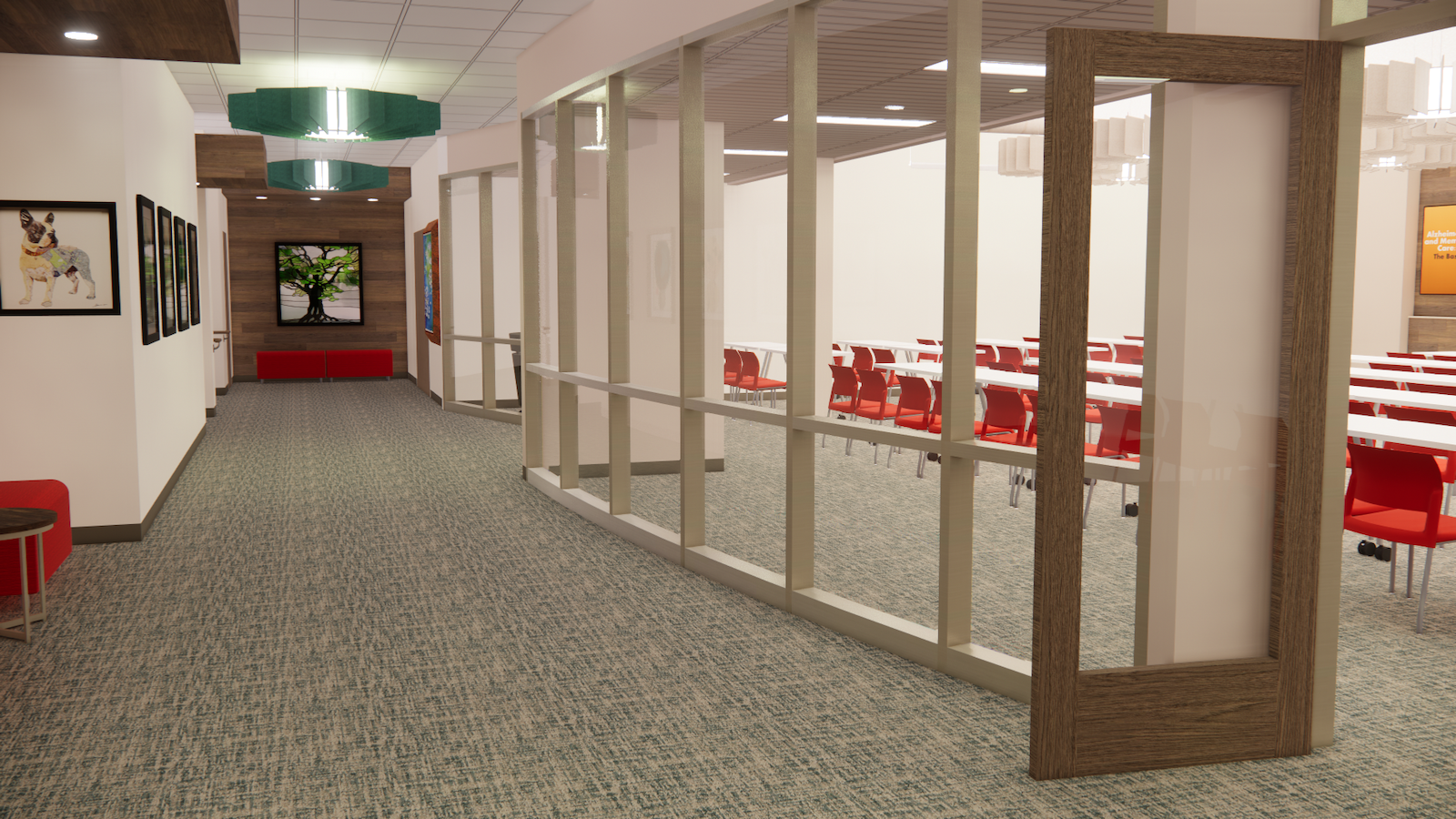 An artist's rendering of the auditorium and gallery of the Memory Care Learning Center at the Heritage Community.
A $2 million capital campaign started in 2018 to build the center is winding up with more than enough money to complete its construction, officials say. Through the first week of October, more than 215 donors, including the Heritage Community itself, have committed nearly $2.089 million to the project, exceeding a $2.053 million goal. Gifts from the organization's board of directors, executive leadership, Heritage Community residents, regional foundations, and individual donors all helped to meet and exceed the goal.
Ashley Lubbers, memory care and assisted living director at the Heritage Community, says the learning center – which started offering "virtual" training and education online last fall – helps people who have a loved one in a facility. But its greater goal is to reach people caring for a loved one at home, she says. That caregiver may be an adult who works full-time or is in his or her 50s or 60s but is caring for a parent in their 70s or 80s.
"Sometimes it's as simple as working through a (patient's) behavior and giving some education there," Lubbers says. "But maybe it's as big as advanced directives or planning for long-term — 'What am I going to do?' So it really helps people at whatever stage they're at, from just-diagnosed through to end-of-life decisions and really planning for those."
Alzheimer's Disease, which is the most common form of dementia, is considered the sixth leading cause of death in the United States, and there is no cure on the horizon, Prince says. It is a neurological disorder that causes brain cells to die, resulting in a progressive decline in a person's thinking, behavior, and social skills. Lubbers says the staff at Heritage is passionate about care for people with dementia.
Realizing that more of the Baby Boomer generation is reaching retirement age and that they will be the largest wave of people facing dementia, directors of the Heritage Community started planning for the center about five years ago.
Jay Prince, President and CEO of Heritage Community of Kalamazoo
The center has partnerships with medical and research-based organizations as well as advocacy organizations dedicated to finding a cure for Alzheimer's and related diseases. The partners include the Alzheimer's Association, Bronson Healthcare Group, Fiddlehead Music Therapy, Hospice Care of Southwest Michigan, LeadingAge Michigan, Life EMS, Michigan Alzheimer's Disease Center, and Western Michigan University.
Connecting caregivers and professionals who work with Alzheimer's patients with those partners and other resources began online last fall. "Although the pandemic has been difficult," Lubbers says, "it has also pushed a lot of our programming virtual, which makes it a lot more accessible for people who are in other areas of Michigan or the U.S."
All of its programming and resources for families are being provided free of charge. More information is available on the Heritage Community's website here.
More than 400 seniors live on the Heritage Community campus. At any given time, about 60 of them are struggling with memory loss, Prince says. It is difficult to tell how many people in the greater Kalamazoo area suffer from dementia because people are only counted after they have been officially diagnosed. And many suffer memory loss for some time before they are diagnosed, Prince says. But the Alzheimer's Association estimates that one in three seniors will die with a diagnosis of Alzheimer's Disease.
"The vast majority, roughly 93 percent, of people with Alzheimer's are not in facilities," he says. "They are at home. Their spouse is taking care of them. Their daughter is taking care of them. And they've just been thrown into this. They have not received education and support and resources. So we saw this huge gap in our community as well as in our nation and we as a board and as a leadership team said we need to do something about it. And that's what birthed the Memory Care Learning Center."
Asked about the difference between the new learning center and residential services already provided for people suffering from dementia, Prince says, "The Memory Care Learning Center is completely different in the fact that it is an education center for the greater community. You do not have to live with us. You can come to the center and can get education, support, and resources that you can take home and be able to take care of your loved ones at home."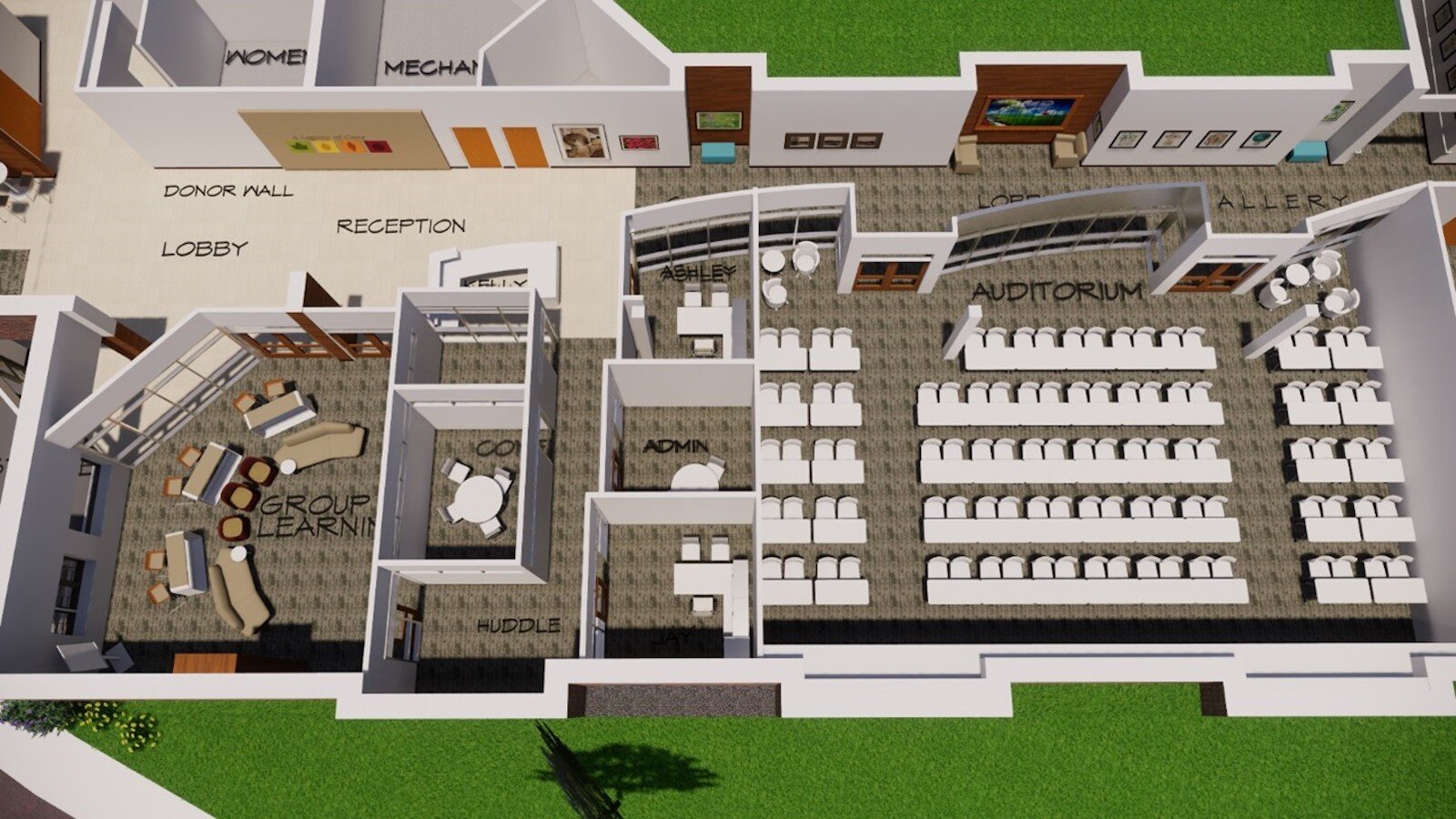 An artist's rendering of the layout of the Memory Care Learning Center at the Heritage Community.
Lubbers says, "I think it's important for people to know that we're here to help and everything is free of charge for them in terms of resources and support," She says an Alzheimer's diagnosis is scary. She suggests that people ask questions. "There's not really a question that shouldn't be asked about Alzheimer's and dementia care."
Since its beginning in 1945, the Heritage Community has continued to adapt to provide needed services, Prince says. The Memory Care Learning Center is part of that.
"We see a large group of seniors coming into our community that are retirement age and we understand that Alzheimer's Disease is going to be a major factor," he says. "And, once again, Heritage wants to step up to the plate. We want to lead our community and make our community stronger."
Click here for the original article.