Rather than downsizing your living space, focus on right sizing it to fit your lifestyle!
If you've been looking into senior living options, you may have come across the term "downsizing." When people move into a senior living community, more often than not they choose a smaller home — because they simply don't need all of the extra space (and the upkeep) they had with their previous home.
Moving into a smaller living space means paring down one's belongings, commonly referred to as downsizing.
But the term downsizing can have some unintended and less-than-positive connotations. And, not all older adults decide they want a smaller home. For instance, some want more space for entertaining guests.
For these and other reasons, it's often more appropriate to think about an upcoming move (or just the paring down process) as "right sizing."
So, What Is Right Sizing?
The core concept of right sizing is to make changes to your living environment, whether that involves a move or not, so that it fits your intended lifestyle in the years to come.
Before you begin the rightsizing process, it's important to think about what truly matters to you and what you want your future to look like.
What to Consider Before Right Sizing
Right sizing isn't just for older adults. It can benefit anyone who wants to streamline, declutter or adapt their home environment so it more closely aligns with the way they want to live.
Everyone's situation is different, so you'll have your own questions to contemplate as you start thinking about what right sizing looks like for you.
The questions below may be helpful whether you're looking forward to retirement or you're purposely downsizing at 70. Some of them can also be useful for seniors choosing to live at home, also referred to as "aging in place."
Will you be in your home most of the time, or will it serve primarily as a home base you return to at the end of the day or after you've been traveling?
If you'll be gone from home a big part of the time, how much space do you really need? Here at Heritage Community of Kalamazoo, many of our residents love to take trips, and they appreciate not having to worry about their home while they're away. We refer to this freedom to come and go as you please as the "lock it and leave it" advantage of living in a community like ours.
Do you enjoy taking care of your home and the yardwork, or would you rather be doing something else?

For many older adults, keeping up a large house and dealing with the inevitable repairs becomes burdensome. From a physical standpoint, it can get to be too demanding. Maybe you'd prefer to devote your time and energy to being with your friends and family or crossing off the items on your bucket list
How much of your home do you actually use?

Would you be happier in a home with just the right amount of space — especially if it came with ample amenities just beyond your front door? In a senior living community, you have your own private residence, which the community team maintains, and an entire campus offering convenient access to amenities such as restaurant-style dining, a fitness facility, life-enrichment classes and comfortable, well-appointed spaces for group gatherings.
How active are you, and how much do you value having a plan in place if your health needs change later on?
Both of these are important considerations if you're thinking about moving to a senior living community. If you enjoy socializing and participating in a lot of activities, you'll want to explore those options before choosing a community. If having access to a complete continuum of care is a priority, then a Life Plan Community like Heritage may be the right choice.
Finding the Perfect Floor Plan
Once you've whittled down the possibilities and have an idea of what size and type of home you want, it's time to consider floor plans.
Do you want a home with one bedroom or two? If you seldom use more than one bedroom, you could choose a floor plan with a den if you occasionally have overnight guests. Alternatively, you could use the den as a study or a studio if you have a hobby or pastime that requires some extra space. Convertible and fold-out furniture can help keep the space flexible.
How much will you use your kitchen? Do you want a kitchen spacious enough to entertain guests? Or will you rarely cook, choosing instead to eat most of your meals somewhere other than home?
It can be helpful to jot down your priorities before you start looking so you can determine which floor plans in which communities meet your criteria.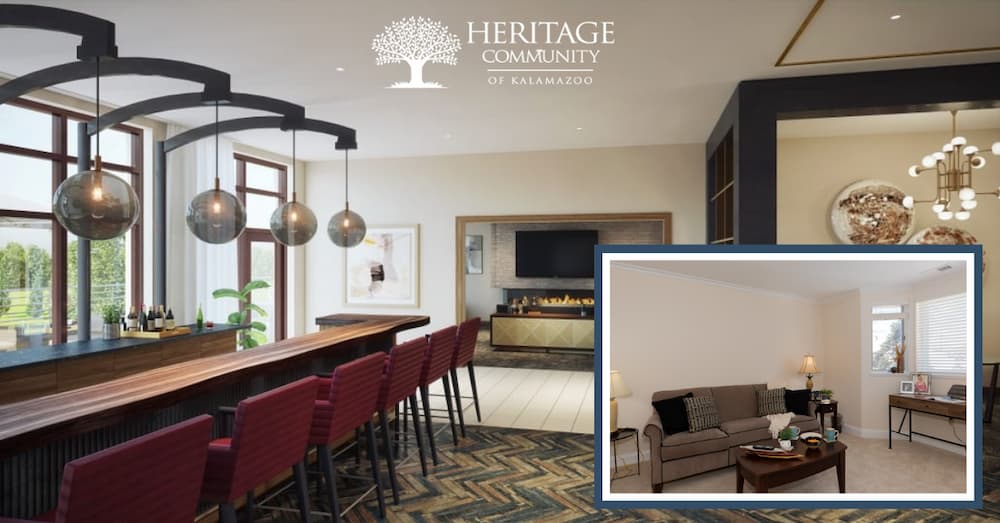 Which Comes First, Right Sizing or Choosing a Floor Plan?
The answer to that question might depend on your particular circumstances. Sometimes the choice is made for you.
In general, if you can start the rightsizing process well ahead of your move, then by all means do so. That way, you can take your time and enjoy it because you'll be able to reminisce as you go.
You'll also have more time to ensure that the belongings you won't be taking with you when you move are distributed as you wish. For example, heirlooms or sentimental items can be handed down to family members who will appreciate them.
A Fitting Future
It can be a challenge letting go of items you've had for decades, even if it's been decades since you last used them or even looked at them. However, keeping your rightsizing goals in mind will give you plenty of incentive and shine a positive light on the situation.
A good rule of thumb is to do one room at a time. Have several boxes or other containers set up so you can sort items to be sold, donated, discarded, or given to friends and family. Boxes that are full can be delivered to their destinations in batches, and soon you'll see signs of progress.
For furniture and other large items, it's helpful to have a properly scaled drawing of your new floor plan when deciding what to take with you. With accurate measurements of your new home, you'll be able to tell what will fit where.
While it's easy to feel overwhelmed, know that you can always enlist the help of others — family, friends or maybe professionals who specialize in right sizing for seniors.
Making the Most of Your New Space
You'll find an endless bounty of tips online for creating a comfortable and practical living space, regardless of how many square feet your new home has. Here are a few to get you started in your new (potentially) smaller home:
Use flip-top ottomans or upholstered storage benches to keep your rooms uncluttered. Some can also serve as a coffee table. Some coffee tables also provide storage.
Add wall-mounted shelves, cubes and hooks in any room to free up floor or counter space. Don't forget the wall above the toilet!
Over-the-door storage racks give you extra storage capacity in otherwise empty space behind closet and pantry doors.
Strategically placed mirrors and other reflective surfaces can make any room seem bright and airy.
How We Can Help
At Heritage Community of Kalamazoo, our independent living residences range from roughly 700 square feet to more than 1,600 square feet. With so many options, you're sure to find at least a few you love. We invite you to take a look at our floor plans.
No matter which residence you choose, you'll have access to the complete array of amenities and conveniences Heritage offers, from our various dining venues, to our fully equipped wellness and fitness center, to The Seasons Salon & Spa.
There's our convenient location to keep in mind, too. We're only a mile and a half from downtown Kalamazoo — and if you know the area, then you know how many fun and interesting things you can do here.
Once you've chosen your new home at Heritage, we can assist you with right sizing, downsizing and even decorating through our partnership with Jaqua Relocation in nearby Portage. Jaqua's personal agents have been working with residents in our community for years and know our floor plans well. Your Jaqua agent can work with you to ensure your new home reflects your personal style and everything suits you to a T.
If you have questions or you'd like to see any of our floor plans in person, give us a call at (269) 382-1255 or contact us to set up a time for you to visit.