PROFESSIONAL EVENT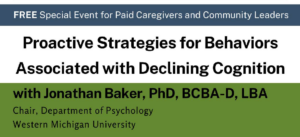 The Memory Care Learning Center in Kalamazoo offers a free one-hour professional educational event on Wednesday, July 20, 2022, titled
Proactive Strategies for Behaviors Associated with Declining Cognition.
This is presented by Jonathan Baker, PhD, BCBA-D, LBA, Chair of the Western Michigan University Department of Psychology.
The Behavioral and Psychological Symptoms of Dementia (BPSD) can cause significant burden for caregivers, often resulting in increases in medications that can have serious side effects and interaction effects. This presentation will address the empirical evidence for non-pharmacological behavior analytic approaches that have been shown to reduce BPSD, empower caregivers, and increase the chances that someone can continue living in their current setting.
The event will be held in the auditorium of the Memory Care Learning Center located at 300 Golden Drive on the campus of Heritage Community of Kalamazoo. The session will also be streamed online via Zoom.